COVID-19 – ACP Ongoing Company Updates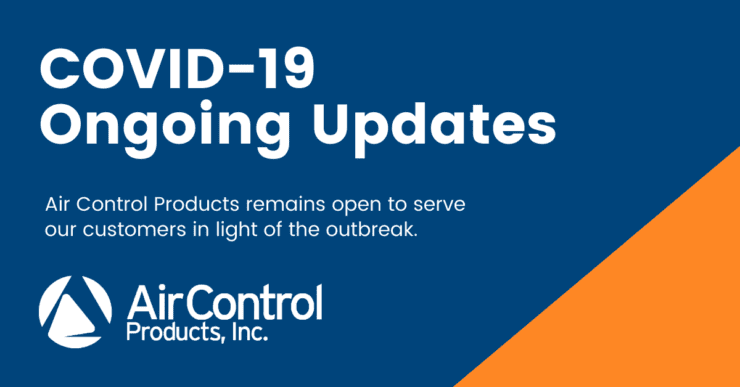 We want to keep our customers up to date on what's happening with Air Control Products during this unique and challenging time. Whether that means business is proceeding as usual or we see a change, you can continue to follow our day to day updates here.
Monday, March 16th – ACP decides to mobilize the workforce and work remotely. Thanks to a continually evolving technological foundation, workers from accounting, to estimating and sales have been working remotely to assure their safety.
Tuesday, March 17th – A letter detailing Air Control Product's plan has been sent out to customers via email and social media. Mike Greene explains that the safety of employees and customers is most important. Business is currently operating as usual with remote work seeing no drop in production.
Out of respect to our customers, we have stopped any visits from our staff
Our warehouse is still open, and deliveries are on schedule
No interruptions in lead times
All manufacturers are still online with no stoppage or slowed production
Thursday, March 19th – Air Control Products is limiting outside visitors despite our warehouse being open. To make customers feel as comfortable as possible, we have instituted Curbside Pickup. Simply let us know when your order needs to be ready, and we will place it outside for you.
Monday, March 23rd – The Governor of Ohio handed down a "stay at home" order for Ohio, closing all non-essential businesses. Air Control Products is categorized as essential under the "plumbing, HVAC, and building maintenance category. Business is continuing as usual, with no interruptions at this time. Please see our update for more information.
Monday, March 30th – We continue to navigate through our new normal of remote work. Our teams are working from home, but it is business as usual on our end. During this time, we want our partnerships to thrive and we are here to help. Please reach out to ACP if there is anything we can do to help your business.
Thursday, April 2nd – Our innovative manufacturers are assisting in the fight against COVID-19. Check out some of the products and initiatives that are helpful during this unsettling time.
Continue to check back for daily updates regarding ACP and our business as we navigate through this time together. Please contact us with any questions or concerns!