ACP Hosts OCILB Course on Make-Up Air Units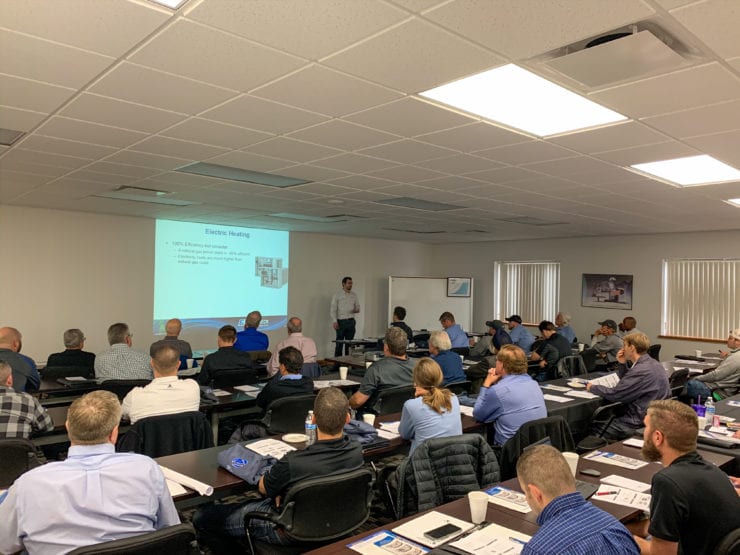 Air Control Products was excited to host a recent OCILB course on make-up air units in all three of our markets. The course, "Make-Up Air - Overview and Innovations," went in-depth on the unique products made by Greenheck and other fan manufacturers and highlighted many of the important features, benefits, and industrial uses.
Make-up air units are used to \"make up\" the air that is being exhausted from a building in various applications.  The make-up air helps to maintain proper building pressure and provides a comfortable indoor environment regardless of air being exhausted.

The course, which was held in Cleveland, Columbus, and Toledo, was taught by Taylor Dane - senior applications engineer from Greenheck. Those who attended felt the course was both intriguing and informative. ACP was happy to provide a learning opportunity for our industry.
"Being able to offer courses like this is important to us," said Mike Greene, President of Air Control Products. "We represent some of the most innovative manufacturers, and letting them come and educate our territory is exciting and something we will do more of in the future."
Those who attended also reflected the same level of excitement regarding ACP's course.
Below is some feedback from attendees regarding the OCILB course:
\"I spent ten years at AWV as I progressed through college from cost accounting, drafting & design, and finally mfg. engineer and I found your presentation truly impressive.\"

\"The seminar was very well put together and impressed with Taylor's understanding of what he was talking about. The mixed flow fan is a very interesting concept.\"

\"It was a great and worthwhile course, so thanks for putting it together.\"

\"I wanted to let you know I thought the presentation today was well done!\"
If you would like to be kept up to date regarding our upcoming continued education opportunities, contact Douglas DiLillo - Marketing Manager to be added to our newsletter: douglas@aircontrolproducts.com or 440-526-3020 ext. 165.