COVID-19: HVAC Manufacturer Initiatives
We are proud to represent the most innovative manufacturers in the HVAC industry. During this unprecedented time where COVID-19 has become a threat to our everyday normalcies, our manufacturers are doing everything they can to stop the spread. Whether through products or expedited manufacturing, our lines can be counted on during this unsettling time.
Here are some products or initiatives by our manufacturers that can help during the COVID-19 pandemic.
AAF Flanders – Prefabricated Skid-mounted Isolation System 
The AstroSafe SC1000 is a safe, reliable method for removing contaminated particles in hazardous environments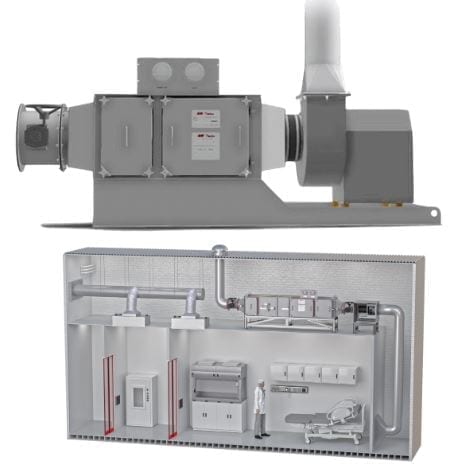 . Turn-key solution for containment of bacteria and viruses that allows maintenance personnel to be protected from direct contact with dangerous contaminants. The self-contained unit includes HEPA filter, prefilter, Bag in/Bag Out system, Isolation Damper, Base, and Exhaust Stack.
The Bag-In/Bag-Out BIBO side access filter system is a safe, simple, reliable method for removing contaminated particulate filters and/or gas absorbers in the exhaust stream of hazardous environments. The return air should be equipped with the HEPA filter. It is strongly recommended to use BIBO unit in isolation room exhaust air.
Application of BIBO Units in Hospitals:
Isolation Suites
Infectious Disease Control
Laboratory Exhaust
Pharmacies
Price Industries – Fan Filter Units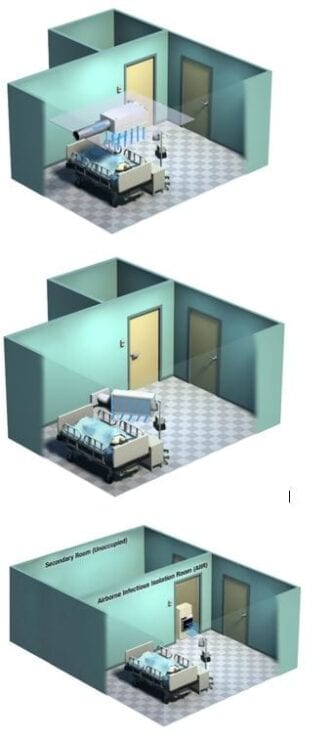 Airborne infection isolation rooms (AIIR) are necessary for patients with highly contagious airborne diseases. During these unprecedented times, existing patient rooms (or hotel rooms in temporary care facilities) can be converted to negative pressure isolation rooms. Price Fan Filter Units (FFU) can be a solution to retrofit these existing spaces in three different configurations.
Ceiling Mounted Exhaust Flow FFU
The most permanent and involved configuration, an exhaust flow FFU is installed in the ceiling near the patient. Air is taken from the room, HEPA filtered, and then exhausted through return ductwork.
Portable Exhaust Flow FFU
An exhaust flow fan filter unit is placed on the floor of the room and plugged into a standard wall socket – drawing air in through the face of the unit and exhausting HEPA filtered air out through ductwork that is directed to a room exhaust/return grille, an adjacent space, or out a window. All ductwork must be sealed from openings to maintain room pressurization.
Portable Standard FFU
A standard supply air FFU can be placed on the floor of a patient room and plugged into a standard outlet – drawing air through the back of the unit, and expelling HEPA filtered air out through the unit's face. The Fan filter unit must be placed in a doorway opening or wall that is sealed to prevent leakage past the unit. The FFU can also be placed in the doorway between two adjacent rooms (possibly hotel rooms), to create a negative pressure space where the patient is located.
Greenheck – Expedited Manufacturing For COVID-19 Response 
Greenheck has continued to produce the highest quality air movement, control, and conditioning equipment available throughout the current pandemic. If an order comes in that is going to service a COVID-19 setting, it is prioritized and can even shipped as soon as the next day.
Check out the real-world example below and click here to see more examples of how Greenheck is prioritizing COVID-19 response.
If any of these products could be of help during this time, please contact us to learn more.