Ductsox: Introducing the New C-Series Fabric Diffuser
NEW C-Series Fabric Diffuser
DuctSox's new C-Series fabric Diffuser is a drop plenum diffuser providing any application space with 360 degrees of even air dispersion plus the many added advantages of being made from fabric. The C-Series utilizes the patented SkeleCore internal tensioning system eliminating any fabric flutter while maintaining the same appearance with or without air.
Benefits of DuctSox
 The C-Series Diffuser provides a better air distribution solution at significantly lower costs than comparable products.  Application spaces that can't use ductwork for physical or financial reasons, but still require air distribution are an ideal fit for the C-Series Diffuser.
Contact Air Control Products, Inc. or visit DuctSox website for information on the New C-Series Diffuser.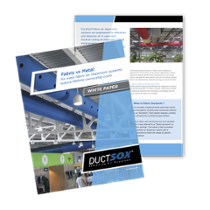 WHY FABRIC?   
Additional information on Six ways
fabric air dispersion systems reduce
lifetime ownership cost.