Greenheck Greenheat Case Study: Shearer's
Industrial and large warehouse environments present a challenging mix of air handling issues. With massive open areas, loading docks, offices, and other spaces, providing a clean, safe, and comfortable workspace requires a broad range of innovative HVAC products.
Shearer's, an Ohio snack food manufacturer, has grown significantly over the last decade. Acquisitions, a growing footprint, and new state of the art manufacturing and storage facilities have been a part of Shearer's expanding business.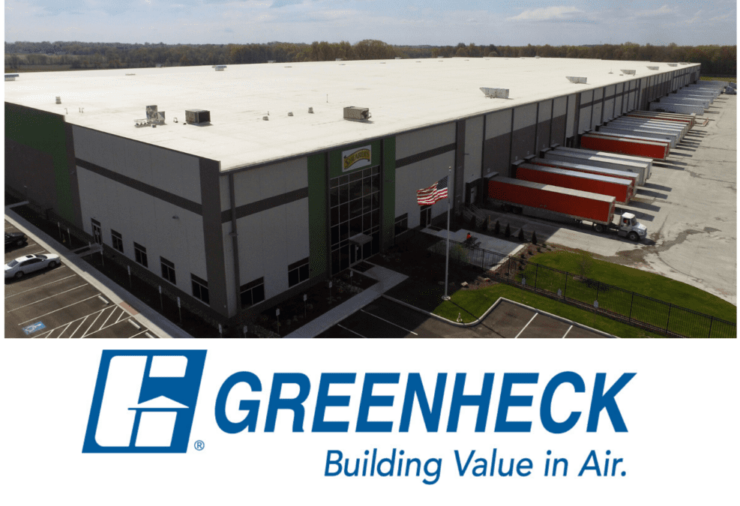 Shearer's recently constructed a 700,000+ square foot facility in Massillon, Ohio. The Shearer's – Stark Distribution Center is used for storage before products are shipped to retailers and other sellers of their high-quality goods.
Mechanical contractors turned to the expertise of Air Control Product's in-house engineering team, along with Greenheck's trusted products, to solve the air distribution needs of Shearer's large-scale warehouse facility.
Challenge: Massive Facility with Big Heating Needs
Keeping a 700,000 square foot warehouse the right temperature for workers, product, and compliance isn't easy. Despite this challenge, OSHA (Occupational Safety and Health Administration) requires the minimum temperature for indoor workplaces to be between 68 degrees to 76 degrees Fahrenheit.
Large scale warehouse facilities like Shearer's distribution center are difficult to insulate and keep at a uniform temperature. Cavernous spaces, high ceilings, and wide dock doors to outside weather are just some of the obstacles of maintaining even air distribution throughout a large industrial building.
 Solution: Greenheck Greenheat System
Local contractors turned to Air Control Products for a solution regarding the Shearer's Distribution center's heating needs.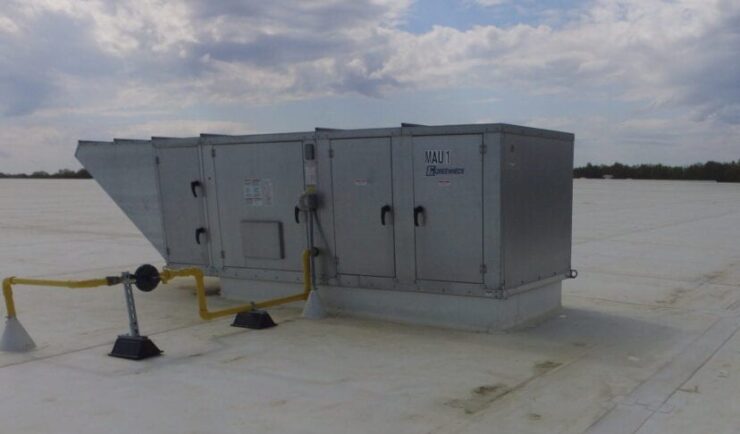 Air Control Products recommended a Greenheck Greenheat 100% outdoor air system as a high-quality and trusted answer to heating issues within a vast warehouse space. Despite a myriad of challenges, large industrial buildings can be sufficiently heated using Greenheat units' space heating capabilities.
Greenheat 100% outdoor air systems provide maximum heating and airflow. Air is supplied to the space at a high velocity with a discharge temperature of 120-140°F. Utilizing 100% outdoor air, the Greenheat system positively pressurizes the building to offset the effects of cold air infiltration.
Greenheck's Greenheat Industrial space heating systems heat large spaces comfortably, economically, and are 92% thermally efficient.
Twelve individual Greenheat units were needed due to the size and complexity of the Shearer's facility.

Results: Comfortable Heating Throughout
The Greenheat system better-controlled temperature throughout the distribution facility.
Contractors were pleased with the ease of installation as it went seamlessly, while business owners have been surprised by the overall low operating costs of the system.
The 100% outside air helps improve inside air quality, provides summer ventilation, and a low moisture content from combustion improves indoor comfort.
Interested in learning more about Air Control Products manufacturers and commercial HVAC capabilities in Ohio? Contact us to learn more.