Greenheck's Virtual HVAC U – April/May Schedule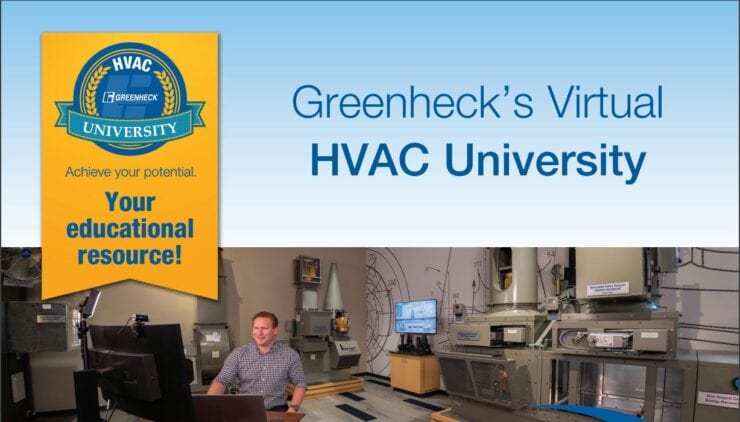 We are excited to inform you of Greenheck's HVAC University classes available in April and May!
This schedule includes:
April 6 – Increasing Design Efficiency Using Software
April 7 – Life Safety Dampers
April 13 – Air-to-Air Energy Recovery
April 14 – HVLS Fan Design, Application and Specification
April 15 – Specifying Equipment for Surviving Hurricane Wind Forces
April 22 – Conditioning High and 100% Quantities of Outdoor Air
April 29 – Laboratory Fume Exhaust
May 6 – Energy Codes and Their Impact on Fan Selection
May 7 – Kitchen Ventilation Systems: Meeting Codes and Standards
May 13 – Motor Technology in the HVAC Industry
May 14 – Ventilation Strategies Utilizing Ceiling Exhaust and Bathroom Exhaust Fans to Meet Indoor Air Quality Requirements
May 20 – Make-Up Air Ventilation
May 21 – Proper Application and Specification of Ceiling Radiation Dampers and Ceiling Radiation Damper-Ceiling Exhaust Fan Combinations
May 27 – Understanding AMCA 500-L Louver Weather Testing and FEMA 361 Tornado Shelters
All classes held from 12-1 p.m. CST
Additional classes will be posted on Greenheck.com>Resources>Education>HVAC University.
To attend, simply email marketing@aircontrolproducts.com with the classes you are interested in. You will receive a calendar reminder and registration link for each class from no-reply@perigonlive.com. Follow the instructions on the email to register. A reminder email with a link to the class will also be sent to you 30 minutes prior to the start of the event.