Latest News from AirMaid by Interzon
About AirMaid by Interzon
AirMaid by Interzon is an Air Control Products manufacturer. All ozone generators are produced and sold under Interzon's own trademark AirMaid. Their goal is to manufacture high-quality products that help their customers keep grease, odours and costs at low levels. AirMaid significantly reduces the amount of grease in the ducts and thereby preventing fires from spreading in the system. AirMaid is effective in reducing the odour and chemical vapors, particles that are not caught in conventional filters. The chemical reaction with ozone effectively reduces grease build up in ventilation channels, reducing them to water and dry minerals.
---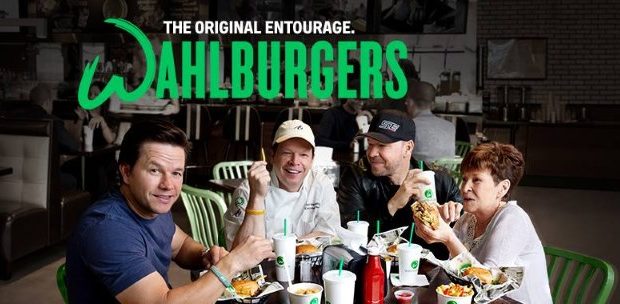 Less grease at Wahlburgers, thanks to AirMaid.
The hamburger chain Wahlburgers, which is owned by Hollywood stars Mark and Donnie Wahlberg and their brother Paul, has significantly reduced both the grease buildup in and odor discharged from their kitchen exhaust with AirMaid.
In September 2015, Wahlburgers installed three AirMaid ozone generators into one of their newly built restaurants, located at Fenway Park in Boston. The ventilation cleaning company Under Pressure cleans and inspects ventilation ducts at several of Wahlburgers' restaurants, including those at Fenway, Hingham and Lynnfield. After only a few months with AirMaid in operation, Under Pressure could see that the Fenway restaurant had significantly less grease in the ducts, compared with its sister restaurants in Hingham and Lynnfield.
Under Pressure said "the volume of grease in the Fenway restaurant's kitchen ventilation is not even in the vicinity of what you can see in the ducts in Hingham". The engineers also noted that "the farther away from the kitchen hood, the fewer the grease accumulations". This is also in line with what one would normally expect of an AirMaid installation, because grease and odours are eliminated when the ozone reacts with the particles.
The following photo series allows you to see the differences between the various ventilation systems at the restaurants in Hingham and Fenway, with and without AirMaid. The photos were taken and documented in 2016 by Under Pressure's engineers.
At Hingham after 6 months of normal operation without AirMaid: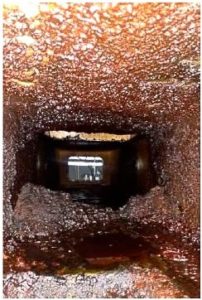 At Fenway on 18 July 2016 with AirMaid: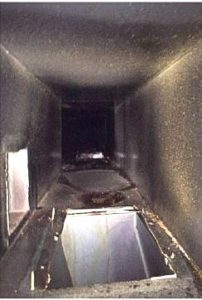 At Fenway on 20 September 2016 with AirMaid: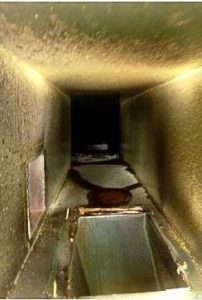 The restaurants at Hingham and Fenway have the same menu and cook the same type of food. The photo documentation above would tend to indicate that larger volumes of food are made in the kitchen at Hingham, but actually, the opposite is the case. Under Pressure points out that the amount of grease that is shown in the Hingham photos is normal at restaurants with similar ventilation systems as Wahlburgers that are not fitted with AirMaid or other air purification systems. During manual cleaning, ventilation engineers, like Under Pressure, usually turn off and inspect the ducts every three to six months.
---

Interzon introduces ozone for kitchen ventilation at ASHRAE.
At the 2017 ASHRAE Summer Conference in Long Beach, California, Interzon's North American Sales Manager, Mark Tilles, gave the first-ever lecture in ASHRAE's history about ozone cleaning in commercial kitchen ventilation. The presentation was much appreciated and was an eye opener for many of ASHRAE's members.
"Despite the fact that the use of ozone generators in commercial kitchen ventilation has been commonplace across Europe for over a decade, it is relatively new in North America. The technology is, however, already well known and commonly used in many other commercial and industrial applications in the United States, and is now growing rapidly within kitchen ventilation. Our sales are increasing rapidly in North America and many of the participants in the ASHRAE conference wanted to know more about our unique technology," says Mark Tilles.
Mark's lecture, The Use of Ozone Generators in CKV Exhaust, focused on the methods of production, benefits realized, limitations and code-compliance requirements for grease applications.
Read the full article here.
---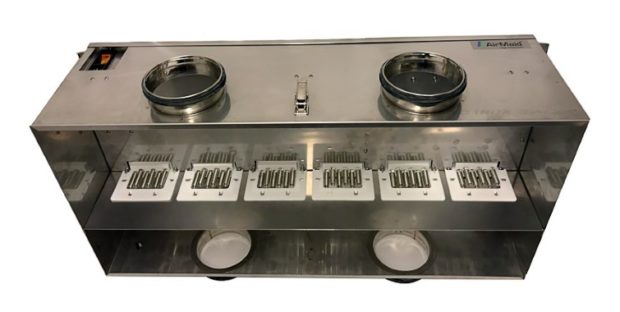 Now launching in Europe and Asia: The AirMaid 30000V
Overseas in Europe and Asia, the long wait is over. The AirMaid 30000V is now available in those markets. While this is our most powerful AirMaid V series ozone generator ever, it is also the lightest and most flexible in proportion to its ozone production capacity.
At a paultry 55 lbs. the AirMaid 30000V can mitigate grease and odor for up to 9,000 cfm exhaust. The AirMaid 30000V is furthermore equipped with a new electronics platform that not only keeps its weight down, but also allows it to run on line voltages between 108-253 VAC, 50/60 Hz. With the same low profile as our other V models, it is easily installed in most kitchen ceilings. Although this product will initially only be launched into Europe and Asia, we are researching its potential in other markets as well.
Read the full article here.