Modernfold Case Study: ACP's Kitchen/Conference Room
"Modernfold Added Flexibility to Our Environment"
For over 40 years, Air Control Products has been providing high-quality HVAC solutions to the construction industry in most parts of Ohio. Representing the best manufacturers, ACP prides itself on offering both the best solutions and service to keep the commercial HVAC industry moving forward.
Air Control Products might be best known for its HVAC offerings, but its architectural division is making headway with architects and builders throughout the state.
Architectural products offered by ACP include operable panels, automated partitions, sound rated movable glass walls, custom power lift partitions, louvers, vents, exterior sun controls, and elevator smoke containment.
Problem: Air Control Product's Meeting Space Needs a Functional Upgrade
Air Control Products moved into its current headquarters in Broadview Heights, Ohio, in late 1999.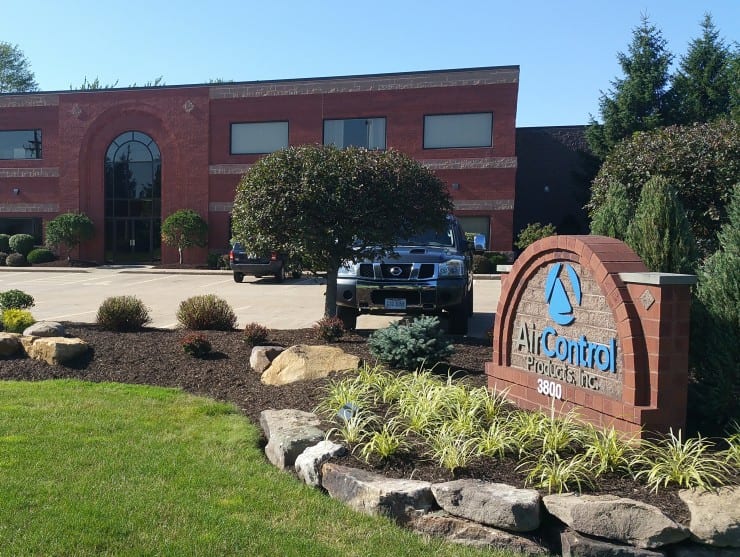 A two-story building consisting of office space, a warehouse, a second-floor product training center, and several conference areas has housed Air Control Product's Cleveland operation for over 20 years.
The main meeting area, filled with a ten-seat conference table, borders against the office's kitchen and eating space, offering the opportunity to adjoin both rooms via a movable wall.
While the rooms are typically separated, other happenings like internal lunches, parties, or ACP's triennial Innovation Expo call for the joining of both spaces.
Luckily, this type of functionality is in the wheelhouse of our architectural division. Using their products allowed ACP to turn our conference and kitchen space into a more usable and useful area during renovations in 2019.
Solution: Modernfold Products make Meeting Space more Versatile 
Air Control Products wanted a durable, long-lasting, and trusted solution to both separate and adjoin their conference and kitchen area. A standard wall with open framing would leave a less than desirable look and feel to both rooms.
Modernfold products provide the flexibility and functionality desired for the internal space.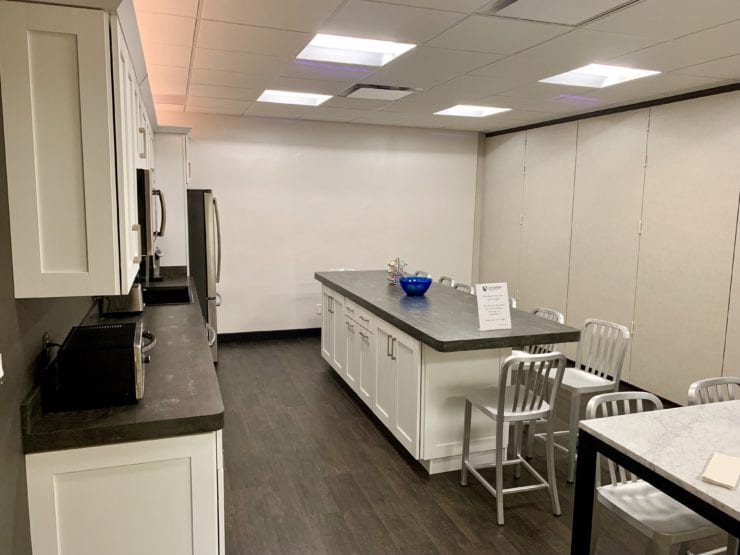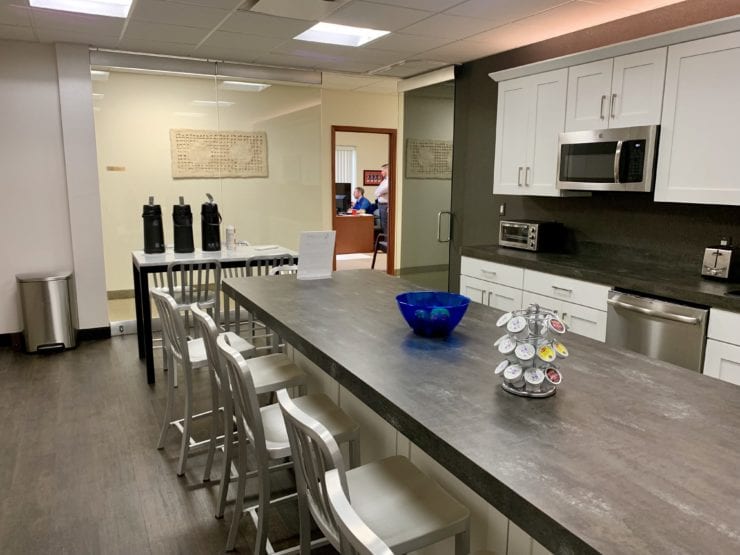 An industry leader in moveable wall concepts, Modernfold delivers high-quality and specialized solutions that add versatility to commercial spaces. Their operable partitions and aesthetically-pleasing glass wall systems allow for endless possibilities within offices, schools, universities, restaurants, medical facilities, and other commercial environments.
Modernfold's Compactline glass wall system was used as the wall between the kitchen and hallway. Fully glazed glass panels allow the room to have a wide-open feel and also provides the ability to be compacted, giving full opening between the kitchen and hallway area. Aside from its stunning architectural look, the compactline makes the space more versatile and offers fewer restrictions than a typical wall and doorway.
The movable wall between the kitchen and conference area is Modernfold's Acousti-Seal® 933E. The continuously hinged panels are connected in a train and extend as one complete unit by a key switch for straight-line openings and operating convenience.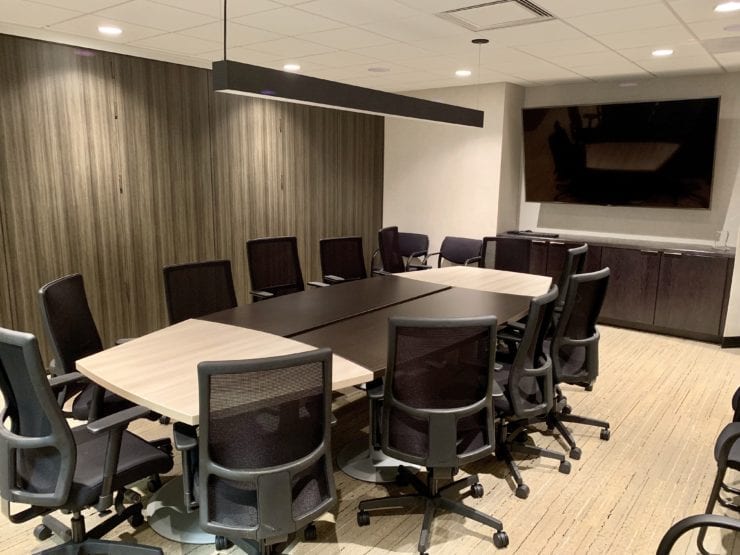 The walls' finish is customizable to meet room aesthetics or add to its functionality. Finishes can include Vinyl, Fabric, full-length marker or tack board, and other custom options. The kitchen side's look was completed with an opal colored vinyl, while the finishing in the conference room was a darker charred vinyl too meet the room's interior.
Some advantages of the Acoutsi-Seal line include premium field acoustics, easy setup, smooth and automated operation, operable top and bottom seals, steel construction, and, most importantly state of the art safety systems.
In addition to the standard built-in mechanisms, a variety of custom options are available, including heat-sensitive touch pads, infrared safety systems, and pocket sensors.
With the addition of a movable wall, the kitchen and conference room becomes a more usable space during unique events. It gives more freedom to Air Control Products to better use their recently renovated workspace.
Results: A Better Space for the Future  
It isn't often organizations can use the trusted products they sell to better their day to day operations.
When we wanted to turn our conference room and kitchen into a bigger and better space to fit our growing company, it was apparent Modernfold offered the right solutions.
Overall, the feedback from employees and management regarding the new and more versatile space has been nothing but positive.
"We wanted to make our conference area more flexible as we continue to grow and change as a company," said Mike Greene, President of Air Control Products. "We promote and sell Modernfold and their innovation every day. So it made sense to put their products into our building so we can see the benefits first hand."
Could Modernfold and our Architectural products help provide benefits to your next design? Contact Air Control Products Architectural Division to learn more and check out the video below for a better look ACP's renovations.