Spring 2021 – Manufacturer's Updates

Greenheck:
New Coatings Application Guide now available – Learn More Here
Power Roof Ventilators (PRVs)
Expanded the model GCC metal building/standing seam curb to 250 inches
New pipe portal products (up to 4 ports per curb)
New Vari-Green® control, HOA – hand/off/auto
New hinge options for G/GB/CUE/CUBE size 60-200 – Learn More
Ship loose option added for curb seal and clean-out port
Discontinued 2-speed induction motors – use 2-speed VG/VGD options instead
Discontinued mounted and wired option for speed controllers
Multiple curb caps sizes are available on CUE/CUBE-99-130 – 19 and 22 inch
Updated temp/humidity Vari-Green control to a modern form factor
Axial, Inline, and HVLS Fans
Vari-Green expansion to include wall-mounted model AER sizes 54 and 60 to include 7.5 and 10 hp.
Expanded upblast model RBUMO performance from 61,800 to 68,000 cfm
Discontinued recirculating roof-mounted model ERD
Square inline direct drive model SQ with mixed flow wheel, now have UL-705 and 15-day quick build option
High volume, low-speed fans (HVLS)

Model DC-5 has 4 new sizes: 4.3, 5, 6, and 7-foot diameters
New factory certified service (FCS) option available
Fume Exhaust, Vane Axial, and Tubular Inline Fans
Model AX has a reversible airflow option (same airflow in both directions)
QEID-100 series is now available with Vari-Green motors
2-inch isolators are available on tubular inline models
Vektor-M series has an enhanced wind load rating (See below)

Dampers
Improved actuator ratings for 3,000 fpm selections (models FSD-311, 312, 331; SMD-301, 302; and OFSD-311, 312)
Model OFSD min-height is now 8 by 8 inches.
Model HBTR-151 is now available on a 10-day quick build
please see the below outline of obsoleted products and their alternatives.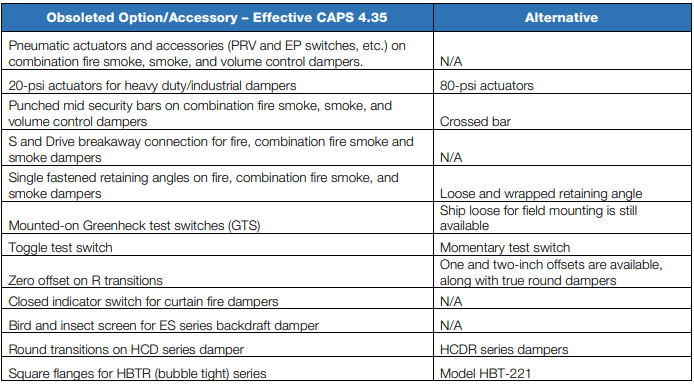 New model – OPA
The Open Plenum Array is a custom, fully assembled solution for data center, mission-critical, and custom air handler applications.
Designed to reduce labor by providing a fully self-supporting factory assembled fan array – no need to provide your own wall or structure.
Louvers
Model EVH-302 can now be manufactured down to 8 inches
Model EAD-635 and 601 increased the max size to 120 inches
Added custom color match for Kynar® for thinline louvers
Kitchen Ventilation Systems (KVS)
Product line simplification to reduce complexity and increase the effectiveness
Grease Trapper, model GFPS, redesign (improved aesthesis, slight dim changes, additional filters on size 30)
Dedicated Outdoor Air Systems (DOAS)
New model RV-10 is available down to 500 cfm and 3 tons of packaged cooling
Added optional UV Lights and bipolar ionization for air disinfection
Optional aluminum energy recovery wheels available on the RVE
Increased airflows on DGX&MSX H22-MF up to 9000 cfm and MSX-H12-MF up to 5,000 cfm
DGX-H22 now selectable with liquid propane for VAV arrangements
External VFD is now selectable for units DGX, IGX, MSX housing sizes H05, H12, and H22
IGX room control is now available with terminal strip or remote panel selections
Increased PDX airflow to 8100 cfm
Energy Recovery – Preconditioners (ERV)
Cooling enable discharge control through external chilled water or split direct expansion (DX) coil (provided by others)
Factory mounted and wired airflow monitors.
Radiated sounds data for the models ECV-20 and -30
Increase motor HP offering on models MiniCore-10 and ECV-10
Price Industries:
Model PDDR
Size 8" and 10" round inlets on the 12"x12" and 24"x12" module sizes have been made standard.
Size 18"x18" and 48"x12" have been added to the standard product offering
This extended face for 15/16" tegular tee applications, formerly model PDDRE and APDDRE, are now PDDR accessories called frame type 15.
Style 17 has been renamed to style 17B to identify this frame is designed for bolt slot ceiling systems only.
Models APDDR and APDDRE are now ordered by selecting the aluminum face option within the PDDR model.
New Barbed Aerosol Injection Port
The aerosol injection port (INJ) available on the FFU, LFDC, and RFDC permits room-side aerosol injection above a HEPA filter for ease of filter testing and commissioning. The new barbed test port is easy to use and fits 1/2 in. inner diameter tubing.
Shape Diffuser (SHP-CF)
2ft x 4ft triangle with 90-degree configuration is now offered as standard.