The Price Industries' UltraTour Rolls Through Ohio
The Price Industries' UltraTour rolled through Ohio on October 16th through the 25th.
UltraTour is an educational opportunity showcasing Price's critical environment products specially designed for operating rooms, pharmacies, medical facilities, and sterile environments.
Air Control Products was thrilled to show off Price's inventive offerings to both contractors and engineers in Toledo, Columbus, and finally, Cleveland.
UltraTour demonstrates two innovative products, Price's UltraSuite and UltraFFU.
The Ultrasuite is a customizable air distribution and lighting product specifically designed for hospital operating rooms. High-output LED lighting combined with precision equalized laminar airflow eliminates the traditional \"light ring,\" opening valuable ceiling space for surgical equipment while optimizing contaminant removal from the surgical zone. Ultrasuite is a revolutionary offering that gives new design freedom to engineers while conforming to all ASHRAE 170 requirements.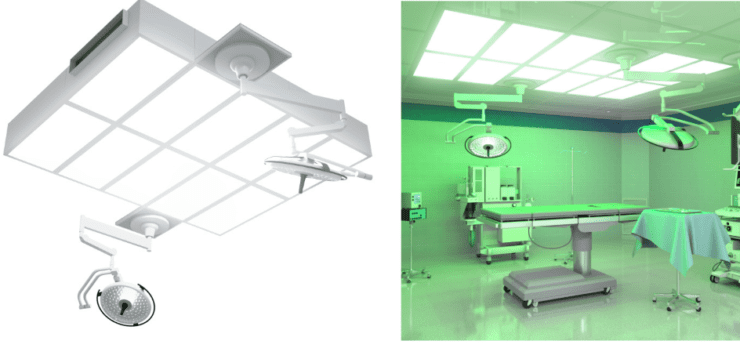 \"Integrating LED lighting into the laminar flow diffuser helps to create a high performance, aesthetic, and efficient modern operating room, all of which contribute to an improved patient and surgery team experience," said Rob Laneve, Air Control Product's Director of Engineering.
UltraFFU, Price\'s fan filter units, are the most energy-efficient FFU products available on the market.  Engineered specifically for use in cleanrooms, pharmacies, pharmaceutical manufacturing facilities, and laboratories, the FFU delivers high volumes of HEPA (or ULPA) filtered air at low sound levels while reducing energy consumption by 15 to 50% versus comparable products.
\"When we are squeezed for space in pharmacy applications, combining the fan filter and lights into the same piece of ceiling will be very beneficial.  The UltraFFU is a game-changer," said one visiting engineer who was impressed with UltraTour. Another visitor had a similar sentiment after seeing the products in action, \"We have an immediate application for this UltraFFU."
After spending October 16th and 17th in Toledo, UltraTour made its way down to Columbus, where it was the center of a fun event at Eddie George's Grille 27. The tour continued up I-71 to Cleveland, where it spent three days being shown at ACP's headquarters, The Foundry in the Flats, and at surrounding engineering firms.
The Power of UltraTour
After ten days and stops in three cities, UltraTour came to a successful end, but not without making a lasting impact.
\"Our guests showed a new excitement about operating rooms," Laneve said. "After seeing the UltraSuite, they realized this new operating room solution is going to save them time, headaches, and money.\"
As surgical spaces continue to evolve, they will use cutting edge products to better the experience of patients and the precision of surgeons. Air Control Products is excited and honored to bring these beneficial solutions to our customers.
\"The Price Industries' UltraTour success of over 150 guests stems from being able to physically take the UltraSuite and UltraFFU demonstration to the doorsteps of engineers, architects, contractors, and hospitals," said Laneve. "Seeing is believing.\"
Are you interested in learning more about Price's UltraSuite? Contact Us