The Price UltraTour is Coming to Ohio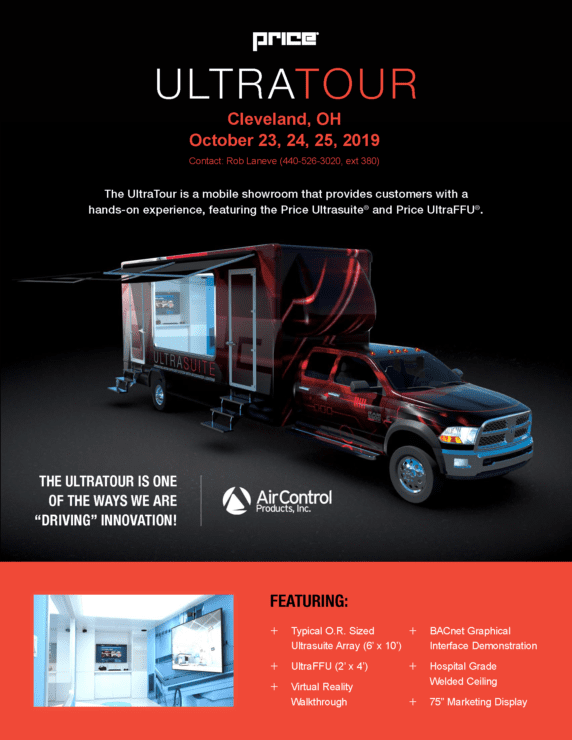 Air Control Products is excited to welcome the Price UltraTour to Ohio October 16th-25th!
This is an educational opportunity pertaining to operating rooms, pharmacies, and sterile environments. The UltraTour mobile training center features revolutionary products: UltraSuite and UltraFFU, and allows medical professionals to see Price's critical environment offerings first hand.
The Ultrasuite is a customizable air distribution and lighting solution specifically designed for hospital operating rooms. High-output LED lighting combined with precision equalized laminar airflow eliminates the traditional "light ring," opening valuable ceiling space for surgical equipment while optimizing contaminant removal from the surgical zone. Conforming to all ASHRAE 170 requirements, Ultrasuite is the perfect combination of performance, aesthetics, and efficiency.
UltraFFU, Price's fan filter units, are the most energy-efficient FFU products available on the market.  Engineered specifically for use in cleanrooms, pharmacies, pharmaceutical manufacturing facilities, and laboratories, the FFU delivers high volumes of HEPA (or ULPA) filtered air at low sound levels while reducing energy consumption by 15 to 50% versus comparable products.
The Price UltraTour will be making stops in Toledo (10/16,17),  Columbus (10/18,21,22), and Cleveland (10/23,24,25).  For more information about the UltraTour or to see it in action, contact Rob Laneve – Director of Engineering – rl@aircontrolproducts.com or 440-792-5730.