UPCOMING: LEAP! at the Rainforest at the Cleveland Metroparks Zoo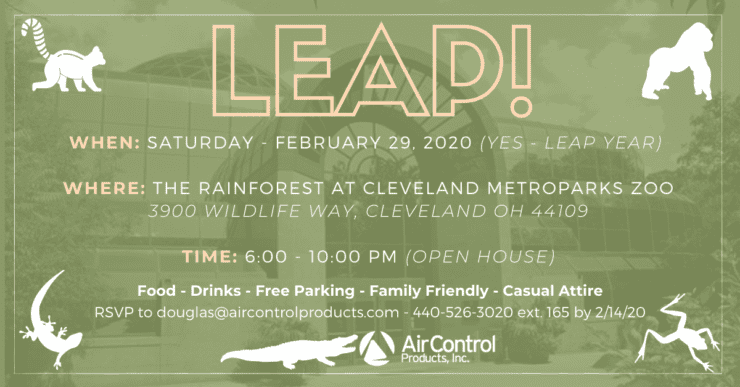 We are excited about our upcoming customer appreciation event at the Rainforest at the Cleveland Metroparks Zoo!
LEAP!, which will be held on Leap year 2020, is set to be a wild night filled with animals, food, friends, and fun! The Rainforest, one of the largest indoor tropical environments in the world, showcases more than 600 animals and 10,000 plants from the jungles of Africa, Asia, and America.
Animals contained in the RainForest include: Egyptian fruit bats, giant anteaters, capybaras, scarlet ibis, prehensile-tailed porcupines, two-toed sloths, Asian water monitors, green and black poison arrow frogs, macaws, mouse deer, a reticulated python, green vine snakes, batagur turtles, oriental small-clawed otters, François' langurs, extremely rare fishing cats, and several gharials as well as ocelots, invertebrates, amphibians, turtles, and chevrotains.
Air Control Products would love to see you there. Reach out to your sales representative for more information or RSVP to douglas@aircontrolproducts.com!