COVID-19 – New Product Guide
As we continue to work through the COVID-19 pandemic, we've begun returning to daily activities like work, school, and other crowded places where social distancing may be difficult.
To help provide a safer environment in these confined spaces, commercial HVAC manufacturers like the leaders we represent at ACP have introduced new products to help control airborne pathogens. Check out some of the new offerings below and contact us to learn more about their capabilities.
Price Industries – Room Air Purifier
The Price Room Air Purifier improves indoor air quality with air filtration with excellent portability.  Designed to cycle air through a HEPA filter continuously, The Room Air Purifier eliminates unwanted dust particles, germs, and contaminants.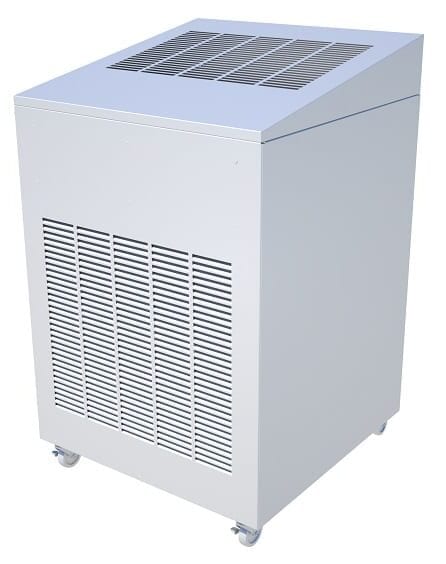 The RAP uses an internal fan to draw air into the return, through a HEPA filter, and sends it back into the space through a grille. With the fan continually running, your space will be safer for inhabitants and from worrisome airborne pathogens.
The RAP can be used in almost any space, including offices, classrooms, retail, gyms, or anywhere else retrofit applications are necessary.
Construction Options
Easily removable and replaceable HEPA filter
MERV 8 pre-filter
EC motor
Adjustable fan speed
150-600 cfm
115 V power cord
Mounted on wheels for ease of mobility
Durable powder coat exterior finish
Optional UV lights
Optional Bi-polar Ionization
Click here for more information regarding the Price Room Air Purifier and reach out to us for pricing.
Price Industries – Filtered Diffuser Module
The Price Filtered Diffuser Module is easy to implement and replaces or modifies existing diffusers to provide MERV 13 or 15 filtration and the removal of viral particles with at least 95% effectiveness.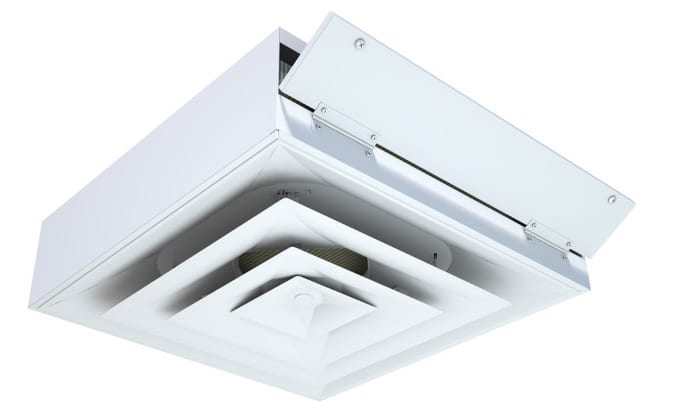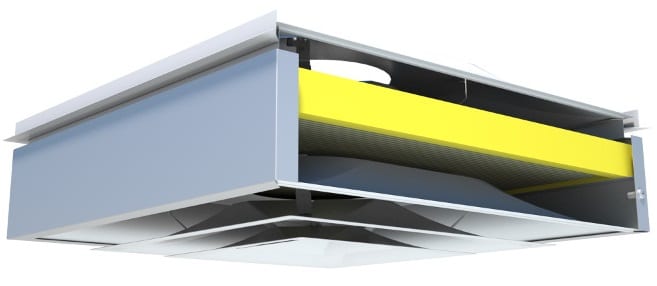 Implementing filtration at each diffuser effectively reduces the concentration of airborne contaminants and reduces the probability of exposure to airborne germs and viruses. Upgrading a typical overhead mixing system to include filters at each diffuser requires very few changes to the overall HVAC system, keeping the implementation cost low.
Typical applications for FDM include offices, classrooms, and retail are ideal for retrofit applications and suitable for new construction projects. Styles include both exposed and recessed in both steel and aluminum materials.
Check out an installation video of the FDM and let us know about any projects where it could be useful.
Powered Aire – UVC Aire
Powered Aire air curtains are excellent tools for separating environments and improving the level of comfort by preventing the entrance of unconditioned air, smoke, fumes, insects, and other unwanted elements.
With the addition of UV-C light to air curtains, we can now improve safety by helping to eliminate the spread of airborne bacteria and viruses. The UVC Aire is capable of removing up to 99.9 percent of the airborne Coronavirus/COVID-19 pathogens passing through the air curtain.
Powered Aire's UVC-Aire is available in a stand-alone unit or as a retrofit extension for preinstalled units. The UVC-Aire is also effective against airborne pathogens, bacteria, and other forms of the SARS virus, as well as MRSA. Of further benefit, the higher the volume of air recirculated through the air curtain, the cleaner it becomes, and multiple passes mean a greater reduction of germs.
Check out more information about the UVC Aire in this brochure and make sure to watch this video.
Airius – PureAir Series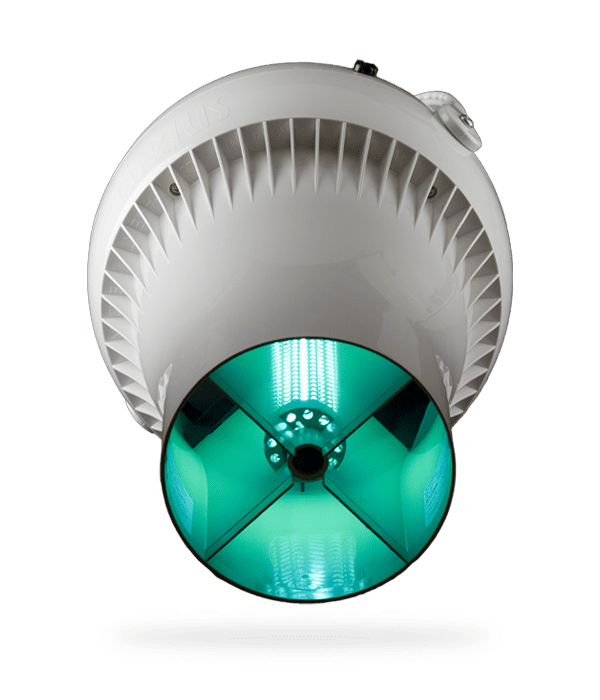 Airius, the leading manufacturer of destratification fans, introduced a new UVC model to meet growing demand during the Covid-19 Pandemic. Available in 4 sizes and two styles, the PureAir series is an excellent solution in any commercial space.
The PureAir Series creates an aggressive advanced oxidation atmosphere to improve indoor air quality reducing viruses, bacteria, gases, VOCs, mold, and odors (surface and airborne) up to 99.99%.
The photohydroioinzation (PHI) technology creates hydroperoxides. Ionized-Hydro-Peroxides are very effective at destroying harmful microbes in the air and on surfaces. As oxidants, they do this by either destroying the microbe through a process known as cell lysing or by hanging its molecular structure and rendering it harmless.
For more information, take a look at this video and brochure.
Please contact Air Control Products with any needs regarding Covid-19. Our knowledgeable engineering team and sales staff can help ensure your occupants are protected using innovative products from our leading manufacturers.