Winter 2021 – Manufacturer's Updates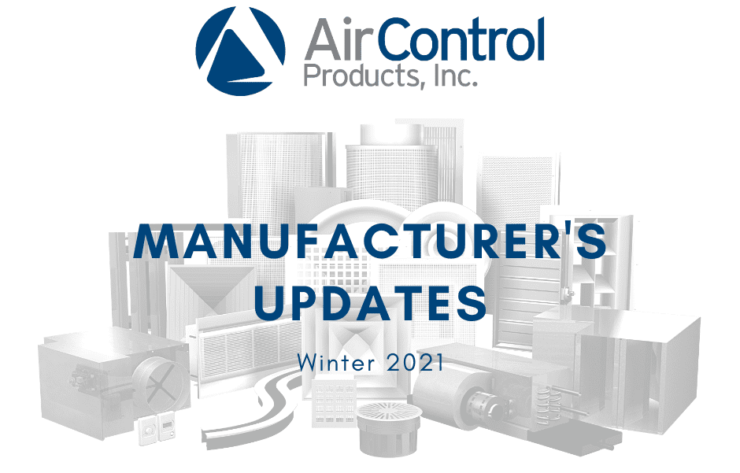 Every quarter we will be bringing you a blog about our manufacturer's new products and updates. Check out what's been happening below:
Greenheck:
We are updating the naming convention for the G, GB, CUE and CUBE models to streamline naming on future product changes. These updates do NOT accompany any physical changes at this time.

Fan sizes will reset to 0 for sizes that did not end with a 0. Historically, the last digit signified some type of product change, but this was not well defined. For example, a CUE-141 will now be a CUE-140 to reflect this change

New ESD-635-HP Louver provides free area improvement ranging from 5% to 25% when compared to the ESD-635.
Vektor H model is now available as a direct drive option.

The newly designed configuration provides higher efficiency operation. In addition, the motor is isolated from the contaminated airstream and the sealed "lube for life" motor bearings require no maintenance.

The ECV-20 and ECV-30 models have been redesigned with direct drive mixed-flow plenum fans and an available polymer membrane core.
Model SQ inline fan is now available with a mixed flow wheel allowing for one fan size smaller, and one or two motor HP size reductions in most cases.
Newly released roof curb model GCC will make installing fans into standing seam metal roofs a breeze!

Universal design metal building curb with welded heavy-gauge galvanized construction and selectable pitch.

New 8″ Automatic Balancing Damper

Greenheck now offers an 8 in. diameter automatic balancing dampers (ABD's) for both supply and exhaust applications.

Model HBT-221 rectangular bubble-tight damper is now available in larger sizes up to 48 inches x 52 inches in a single section.
The Heavy-Duty/Industrial Damper catalog has been updated and features expanded product offerings and improved performance data.
PRICE:
Introducing PURAFLO: Health & Safety Starts with the Air You Breathe

Derived from our industry-leading line of Fan Filter Units, Puraflo provides HEPA filtration and an increased air change rate with no impact on the existing HVAC system, effectively reducing exposure to airborne pathogens.

Introducing the Critical Area Exhaust/Recirculation System (CARES)

The CARES is a single 48 in. x 48 in. airflow device that combines the capabilities of the exhaust flow Fan Filter Unit (FFU) with a one-way, flush face radial flow diffuser to manage the airflow for an entire patient room.

CFP plenums for Custom Flow (CF) diffusers now offer an option for snap-clip installation. This is compatible with both T-Bar mounting, as well as surface mount where plenums are installed after the diffuser has been attached to the framing.
KEES:
The new Risk Resistant Retrofit Grille is now available.

Our new risk-resistant retrofit grilles fit over the existing grilles or diffusers. They are readily available in any size, are easy to install and provide immediate protection. In addition, the perforated face is raised away from the mounting surface so that airflow obstruction is minimized.
Contact Air Control Products with any questions regarding our manufacturer updates!